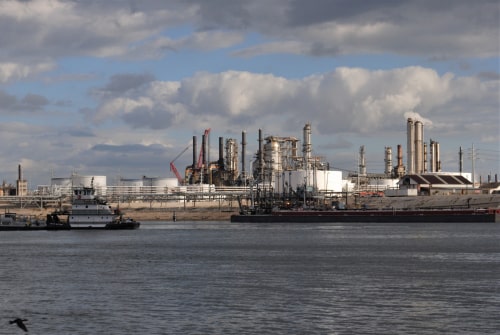 Stock market titans face Texas ports threat
10 June 2020 | Blog Post
---
Exxon Mobil, Apple, General Motors and Walmart are brutally exposed to potential shipping port losses running into tens of billions of dollars in the U.S. State of Texas in the event of windstorm or other loss events. A lack of data that evaluate and score risks and links in the chain of today's Texas business ecosystem could result in a 'corporate protection gap' wipe out.
With the U.S. officially entering hurricane season, new analysis by the leading connected risk exposure firm, Russell Group, quantifies the flow of goods trade through the major ports in Texas to be $235 billion over the hurricane season.
One fifth of this exposure is concentrated in 10 companies.
Exxon Mobil, perhaps unsurprisingly given the State's reliance on oil exports, tops the list of exposed organisations with nearly $15 billion of goods flowing in and out of Texan ports (more than 90% through Houston) typically from July to December, right in the middle of the hurricane season.
Texas is best known for exporting various types of petroleum oils, but it also exports liquified propane, natural gas, aircraft including engines and parts, while computers, parts and their accessories are also included.
It also manufacturers and exports integrated circuits (processors/controllers): modems, similar reception/transmission devices, machinery for making semi-conductors and natural gas. That partially helps to explain the presence of companies such as Apple ($2.3bn) and Walmart ($800mn) in the top ten list of connected corporates.
Texas is America's number one exporter annually by state ahead of California, New York and Washington. The state's chief export is Oil & Gas. The value of Texas' exports equals approximately one fifth of the United States' overall exported products for 2019.
The Lloyd's RDS, which requests (re)insurers to model exposures in the Gulf of Mexico from modelled hurricane losses, would find such information of value in assessing the unmodelled or connected risk exposure arising from such modelling.
The breakdown below is the top 10 highest exposed companies across all the ports in Texas:
| | | |
| --- | --- | --- |
| | Total | Dollar Revenue ($) |
| 1. | Exxon Mobil | 14,490,366,966 |
| 2. | Chevron Corporation | 7,886,621,444 |
| 3. | Marathon Petroleum Corporation | 5,864,726,840 |
| 4. | Phillips 66 | 5,331,453,896 |
| 5. | Valero Energy Corp | 4,602,156,818 |
| 6. | Public Service Electric and Gas Company | 2,888,741,820 |
| 7. | Apple Inc | 2,290,892,278 |
| 8. | The Dow Chemical Corporation | 2,089,304,116 |
| 9. | General Motors Company | 1,732,013,569 |
| 10. | Walmart Inc | 796,774,457 |
---
Further Reading Suggestions
Trade Falls But Ports Exposures Are Rising